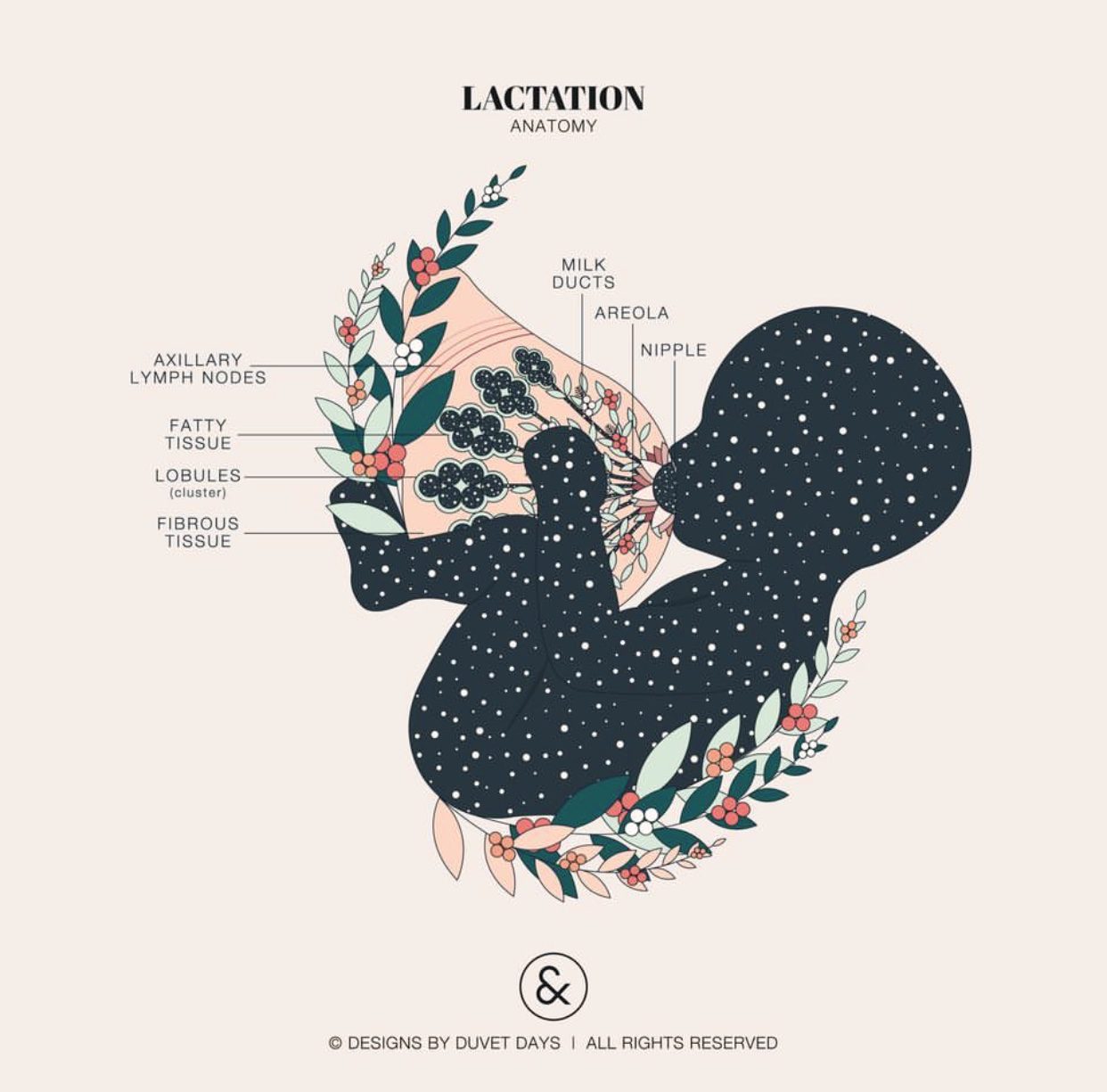 13 Jun

Lactation Anatomy

Our breasts tend to not be celebrated very often for what they were actually created to do. Women are shamed for breast feeding their child in public and is considered unacceptable. What our bodies are capable of providing for another living being is incredible and nothing short of perfection and should never be shamed, but celebrated.⠀⁠⠀
⠀⠀⁠⠀
Our milk ducts are intricate and life giving network of channels nestled among fat cells and glandular tissue. These milk ducts branch off near our chest wall and are called ductules which have small cluster of sacs called alveoli. A cluster of alveoli are called lobule and a cluster of lobules are called lobe.⠀⁠⠀
⠀⁠⠀
AXILLARY LIMPH NODES⠀⁠⠀
The axillary lymph nodes help fight infection in our bodies by filtering lymph fluid from your breasts.⠀⁠⠀
⠀⁠⠀
FATTY TISSUE⠀⁠⠀
Fat tissue surrounds the ducts and lobules.⠀⁠⠀
⠀⁠⠀
LOBULES⠀⁠⠀
Produces milk during pregnancy and breastfeeding.⠀⁠⠀
⠀⁠⠀
FIBROUS TISSUE⠀⁠⠀
This tissue helps support your breasts and is what makes them feel firm.⠀⁠⠀
⠀⁠⠀
MILK DUCTS⠀⁠⠀
The milk ducts carry milk from the lobules to your nipple during breastfeeding.⠀⁠⠀
⠀⁠⠀
AREOLA⠀⁠⠀
Is the dark area around your nipple.⁠⠀
⁠⠀


Words and art by amazing mama and artist Duvet Days.